How to Submit a Story
Do you have a story to share about a bullying situation you were involved in? We would love to hear your stories of intervention, or other positive ways you helped stop bullying in your school. Stories are incredibly inspiring, and help spread awareness; your story could help someone else in a difficult situation, and could encourage them to take a stand against bullying. Join us in our mission to create safer schools by sharing your experiences.

Click here to submit your story, photograph or video.
Feature Story - Standing Together Against Bullying
When I was in grade 12, I was in class when I noticed that one of the guys was making fun of this really nice girl. I asked her why she didn't say anything and she said that she felt if she were just quiet about it, he would eventually leave her alone, and it would just cause more trouble if she spoke up. So each time, she would tell no one about what happened.

The same guy tried to pull a similar stunt on me one day, and I chose to immediately confront him instead. The girl was right, when I said something, his behaviour towards me got worse and he tried to make a lot of trouble for me. But I persisted. I went to the principal and told her everything. What I found out from that meeting was that this guy was bullying many others, but none of them would talk about it so there was little the principal could do until she caught him in the act. So I spoke to these other girls, that he verbally (sometimes physically) abused, and encouraged them to speak up.

Maybe my school year then wasn't the most calm and happy but at the end of it all, the guy was made to take responsibility for his actions and because those girls finally said something, he couldn't really bully anyone anymore. He was powerless because we stopped giving him power. As a result, I felt stronger, and so satisfied that I could help.


Feature Story - Open Mindedness
When I was a junior volunteer at a summer day camp, I was assigned to help supervise a group of ten-year old boys. They were a hyperactive bunch, full of energy and fire, except for one boy who was more calm and thoughtful. During our free time block, the boys were given the chance to pick a group activity that they would all participate in. Of course, all of the requests were for competitive games like soccer, dodgeball, and relay races.

One day, the calm and thoughtful boy spoke up and suggested something different – group reading. The rest of the boys burst into laughter and started calling him names, at which point the senior camp counselor and I sternly hushed and forced apologies out of them. While the two of us felt that it was a great suggestion, the majority ruled, and we played a round of dodgeball. However, the atmosphere was very hostile towards the boy, who they had singled out for being an outsider. The boys from the opposing team targeted him in particular, and the boys from his own team excluded him from the game. At the end of the match, the senior counselor was not happy, and scolded the boys for their lack of sportsmanship and respect. She announced that the activity the next day would be reading (to the groans of the group) and encouraged them to keep an open mind, because they might enjoy it more than they'd think. Before the group was dismissed, I approached the quiet boy, who was visibly upset, to commend him for his suggestion and to ask him to bring his favourite book to share with the group. He gave a slight smile and nodded before heading home.

At the start of the free time block the next day, the boy nervously presented his favourite book – Where the Wild Things Are - to the hostile group. As he began to read, something slowly started to change – the boys became engaged with the story! They raved about the imaginative tale, its characters, and the illustrations. In fact, one of the boys who had teased the brave storyteller the day before asked if the boy could bring another book the next day. Thus, for the following weeks, the boys began to bring in their own favourite books, and the nature of the free time activities evolved into half creative, half active. By the end of the summer camp, the calm and thoughtful boy went from picked on to being the friend everyone looked up to.

Instead of allowing our lack of understanding about our differences as individuals to separate us, we should challenge ourselves to use what makes us different to bring us together. With an open mind, we (and our communities) can learn, experience, and grow together.


Feature Story - A Friendly Hand
When I was in Grade 3, I was playing outside with my best friend, who I'll just call Al,. The day felt no different until we saw fellow classmates bullying a new student (who I'll call Lee). The fellow classmates were getting physical and insulting Lee for being obese. I will never forget the sick feeling that I felt as I saw this happening. Al, being the good person that he is, shared in the disgusted feeling that I felt. Almost instinctually, Al and I made our way over to Lee to intervene in the situation. As we got there, our fellow classmates disbanded and ran away from Lee. We approached him anyway to see if we was alright.

Al and I immediately extended an offer for Lee to join us on the jungle gym. Lee gratefully accepted and eventually opened up to us. Every day henceforth, Lee was not bullied by the classmates who tried to initially make his life miserable. Instead, Al and I ensured a safe environment for Lee to be himself and have fun—something that every person has a right to.

Lee's friendship started from that event and continued all the way until he departed back to China about six years. I am still in contact with him once in a while, and to this day he is thankful. Al and I are still best friends, and our belief in helping others has only grown stronger over time.

My experience with standing up for Lee may seem small, but it profoundly shaped who I am today. I learned that the body doesn't lie—the feeling of wrongness that came over me when I witnessed Lee being bullied was a signal for me to stand up in his defense. I learned that care for everyone, regardless of shape, size, ethnicity, gender, sexuality or religion, trumps any sort of negativity. My experience in Grade 3 contributed to who I am today and I will be forever committed to defending those who have trouble standing up for themselves.


Feature Story - Hold Your Head Up High
One day, I watched as an old friend walked by during lunch at my high school. Just as I was about to call out to her, someone else called out to her using another name. They called her "Brittany". I figured there was something wrong when a group of 4 or 5 more boys joined in the chorus and in a sing song voice shouted profanities at her while repeating the same name – Brittany. The reason being, as I assume, was that my friend had a very eclectic style and quite unique ways of portraying herself.

At that time, she had decided to shave the sides of her head and wear the rest of her extremely long hair spiked up with copious amount of gel. I guess that's why those people where comparing her to Brittany Spears and her controversial public displays.

Upon reflection, I realize how unfortunate it was that someone's uniqueness was not celebrated, rather it was looked down upon and made fun of. But what has stuck with me till date about that experience is my friend's response to what had occurred. While group of guys was teasing her, she calmly kept walking to wherever she was going, not caring a bit about what everyone was saying to her.

Whatever the reason, I admired her ability to stand up for herself and to not let people's words hurt her. But what about those who cannot muster up the courage to do so as well? Well, I guess it's left to others to stand up for them and create a solid foundation of compassion and acceptance. It is up to us to stand up for what we believe in and help others in need because it is the strong who help themselves, but the stronger who help others.


Feature Story - Quick Intervention
It was a fall afternoon, about 15 minutes after the end of school, and I was walking home with a friend.

I heard some shouting and turned around to witness a good friend of mine walking quickly in my direction, although he was a good block away and didn't see me. I witnessed a group of 6 guys running after him. The group of guys, with one of them at the head, caught up with my friend. At this point he was about half a block away from me, the main guy pushed my friend so that he fell to the ground and started to kick at him. My friend went into the fetal position and all of the other guys started to kick at him as well.

As soon as that started happening, I ran over to them and shouted out "hey", I asked them what was going on, why they were doing it, and why they needed to gang up with so many people on one small guy. The main guy in the group was someone I knew and was friends with my younger brother, so after a short amount of time I was able to convince them to leave my friend alone. That may not have been the end of the bullying for my friend, but I know I made a difference.


Thank you for sharing your story. It can make a world of difference when you know there is someone there to stand up for you. Because you knew the students who were bullying your friend, you were in a great position to encourage them to stop and see that what they were doing was wrong.


| | | |
| --- | --- | --- |
| | When other children intervene – more than half the time, the bullying will stop within 10 seconds! – Hawkins, Pepler & Craig, 2001 | |
Example Story
Bullying has a very strong impact on people. Sometimes an 'I'm sorry' or a 'just kidding' doesn't always help people feel better. Maybe, just maybe, the words we say to people truly can hurt them. After we do say those words their opinion about themselves can change.

Us kids, you adults, we can decide to make it stop; to change it. Bullying makes us kids and also adults feel bad about themselves. There is no age limit to it, that's why you can't avoid the matter as there is no running away from it. Some of us are shy, quiet, insecure, sad upset and at times feel lonely too. So that is why we stand up for people who are not able to stand up for themselves.

The reason I was interested in doing Beyond the Hurt was because I saw the impact bullying has had on people. In fact it hits close to home. My best friend had health issues and around me she was crazy loud and herself. At school she was shy; she was scared of the people who didn't understand her. She had to put up with so much abuse from them.

I want to teach others how bad it truly hurts others. I hope for the future that there are things to look forward to. That "change" everyone is talking about...well we can be it. I hope one day we no longer say "we can be the change" but we will however be able to say "we WERE the change". That is something I would like to be a part of and I hope you adults do too.

Grade 10 student New Westminster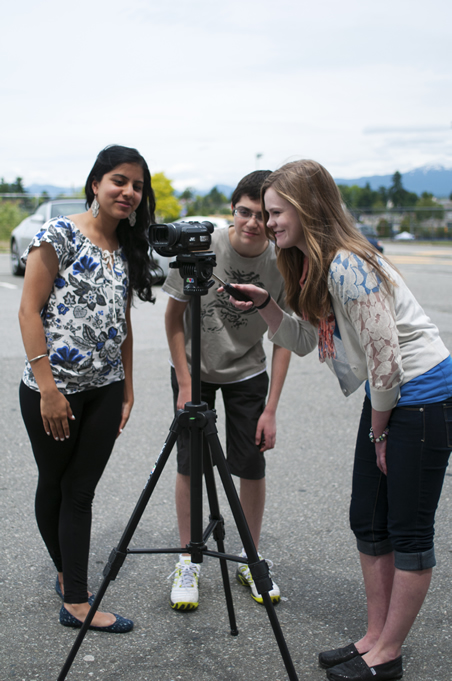 Submit your Story below
Please use the form below to inspire others with your stories of intervention and hope. Our Bullying Prevention team will upload your stories to the website once they have a quick look to ensure each is hopeful and inspiring!

Thank you for Imagining a world with no bullying!